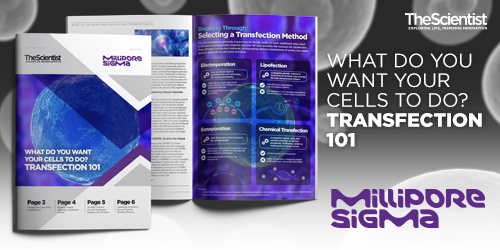 The ability to manipulate the genetic composition of a cell has been an integral part of life sciences research for the past several decades. Beyond furthering our understanding of the relationships between genes, proteins, and functions, it has helped shape our understanding of etiological factors underlying human pathogenesis and the therapeutic approaches that we must adopt to combat disease.

Transfection, the process of introducing foreign genetic material into a cell using non-viral methods, has been at the forefront of these advances. In order to deliver its payload, intact, to a place where the cell can transcribe and/or translate the foreign genetic material, transfection utilizes an array of different nonviral approaches to bring nucleic acids into contact with cellular machinery.
Download this eBook from MilliporeSigma and

The Scientist

to learn about:
The applicative versatility of transfection

Selecting a transfection method

How to choose transfection reagents

Optimizing transfection and boosting efficiency
The life science business of Merck KGaA, Darmstadt, Germany operates as MilliporeSigma in the United States and Canada.