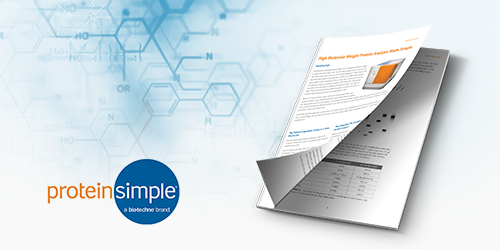 Analyzing a large protein using a traditional Western blot can be very complicated. The low-percentage acrylamide gel is fragile and prone to tearing. To make matters worse, optimizing transfer conditions is trickier with large proteins, and transfers commonly have to run overnight versus the usual single hour. At the end of the procedure, what you're left with for your three days of work is a result that is often difficult to reproduce.
Solve these problems with capillary-based protein separation techniques! Analyze proteins as large as 430 kDa using a process that requires no gels, no transfers, no film, and no dark rooms!
To learn more about how to probe and quantify proteins in less than three hours (with only 30 minutes of hands-on-time), download this application note from ProteinSimple!