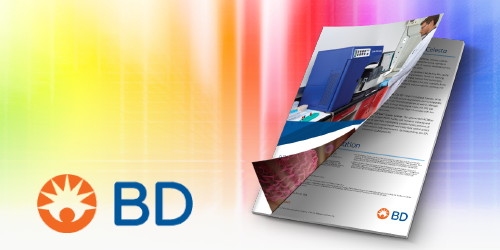 Immunology can be a difficult field of study, as it is not easy to isolate component subsets of immune cells for investigation because their distinguishing cell markers often overlap with other cell types. Flow cytometry addresses these issues by rapidly analyzing thousands of individual cells while simultaneously assessing the expression of multiple intracellular and cell surface markers, making it one of the preeminent methodologies contributing to immunologic research. Flow cytometry can precisely detect and delineate fluorescent probes at the cellular level, making it an option for evaluating protein expression or cellular state/behavior.
New innovations in flow cytometry instrumentation can help you extract a deeper level of biological information from your cell types of interest, allowing you to design more complex biological panels and address important biological questions.
Download this Databook to find out more about how multicolor flow cytometry on the BD FACSCelestaTM:
- Enables deep immunophenotyping
- Identifies rare cell populations
- Facilitates analysis of cell cycle and apoptosis status at the individual-cell level
- And more!
FACSCelestaTM is a registered trademark of Becton, Dickinson and Company.