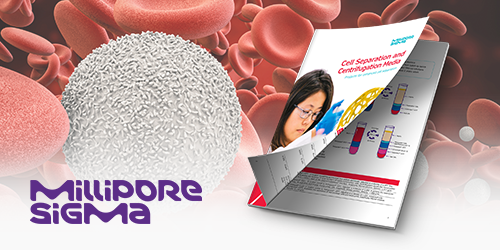 The ACCUSPINTM system simplifies and optimizes cell separation. The porous frit creates 2 chambers in the radiation-sterilized centrifuge tubes. This allows whole blood to be added directly to the ACCUSPINTM tube without the risk of mixing with the Histopaque® density gradient media contained in the lower chamber.
Upon centrifugation, erythrocytes and granulocytes descend through the frit to pellet below the Histopaque® media. The erythrocytes aggregate, increasing their sedimentation rate, resulting in pelleting at the bottom of the ACCUSPINTM tube. Lymphocytes and other mononuclear cells (e.g., monocytes) remain above the frit at the plasma-Histopaque® interface. For the selective extraction of granulocytes, a double gradient technique using two different types of Histopaque® can be employed.
For more information on the ACCUSPINTM system, the difference between types of Histopaque® gradient media, and additional products for centrifugation-based cell separation, download this resource!
The life science business of Merck KGaA, Darmstadt, Germany operates as MilliporeSigma in the United States and Canada. ACCUSPINTM and Histopaque

®

are trademarks of Merck KGaA, Darmstadt, Germany or its affiliates.