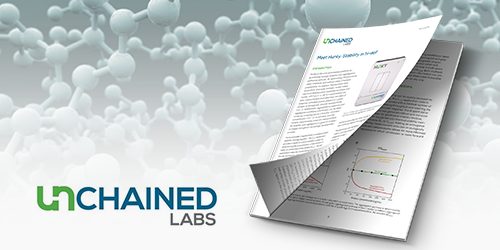 In solution, biologics exist in an equilibrium between the native and denatured states, where conformational stability is dictated by the Gibbs free energy, ΔG.
ΔG measurements represent useful information for researchers at several stages throughout the biologic development process. It i
s a quantitative stability measurement that describes the ratio of folded to unfolded protein present in a given sample at biologically relevant temperatures.
When analyzed as a function of protein concentration,

Δ

G also can be used to determine

aggregation propensity and aggregation pathway information.
Download this technical note from Unchained Labs
to learn more about to quantify molecule stability, aggregation propensity, and aggregation pathways!