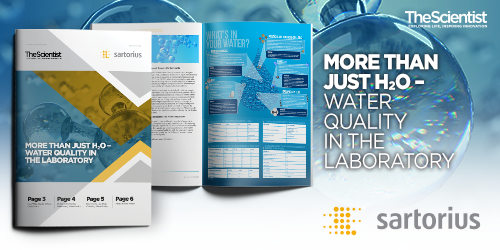 Water is essential to life-sciences research, but for many scientists, the most thought given to this ubiquitious reagent is "how much of it do I need?" Because water is capable of acting as a solvent to many substances and capable of sustaining life, it can be easily contaminated. Even within a single laboratory, the water used in one experiment can differ from that used in another.
Not all water is alike, and it's important to consider water as a laboratory reagent and scrutinize it accordingly. Understanding the importance of water quality and monitoring it closely is important for ensuring experimental reproducibility across days, months, and even years.
Download this original eBook from The Scientist to learn more about:
How water contamination affects data quality

How water quality is measured and determined

How to obtain water suitable for your experimental needs

Potential contaminants in laboratory water
This free eBook was made possible by an educational grant from Sartorius.